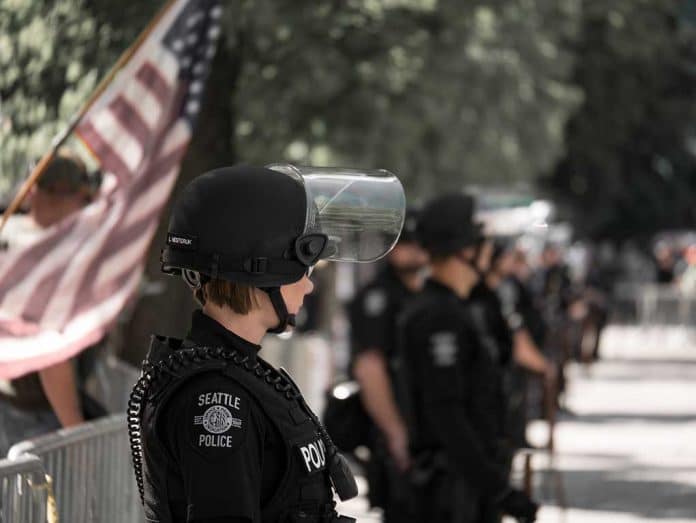 (ConservativeStar.com) – The COVID-19 pandemic has put police officers in a very awkward place. Their job means they can be called on to help enforce vaccine mandates – which many of them personally disagree with. Now, as the administration ramps up its efforts to force Americans to wear masks, cops are starting to push back.
Police at Risk – But Defiant
Their front-line role puts police officers at high risk from COVID-19. The Officer Down Memorial Page lists 157 cops as having died from the disease this year, making it the leading cause of law enforcement deaths. The Biden administration and public health organizations are trying to force police to get vaccinated against the disease, arguing that having unvaccinated officers meeting the public is putting lives at risk.
However, cops are also members of the public, and like everyone else they have a range of opinions on vaccination. A significant number of them are reluctant to accept a relatively new drug without long-term evidence of safety or effectiveness, and both individual officers and police unions are resisting mandates.
Federal Law Enforcement Officers Association President Larry Cosme has strongly criticized Biden's vaccine mandate for federal employees, which covers all his union's members. Cosme says the law is "misguided" and "villainizes employees for reasonable concerns and hesitancies." The Fraternal Order of Police, which has 350,000 members across the US, believes the vaccine is effective – but says it will "take every step" to protect its members against vaccine mandates. They believe vaccination is "a personal decision that our members should make for themselves."
The Pressure Is On
Democrats haven't been shy about trying to force police to get vaccinated. NYC mayor Bill de Blasio (D) threatened to withhold paychecks from NYPD officers who didn't accept the shots, prompting the city's four police unions to launch legal challenges. Chicago Mayor Lori Lightfoot (D) has also threatened to enforce vaccination on the city's police department – and the city's police unions have also threatened to sue if she does.
Police unions are starting to win the battle to protect their members' rights. Portland, Oregon Mayor Ted Wheeler (D) recently backed down from attempting to force a vaccine mandate on the city's hard-pressed police force. His action came after the union warned his policy would lead to mass resignations from a department that's already struggling to hold on to officers.
Liberals aren't giving up, though. Seattle is pushing ahead with a mandate that could see 200 cops fired if they don't comply. Public health activists and academics are backing the coercion. Dr. Robert Kim-Farley of UCLA claims the police oath to protect and serve obliges them to be vaccinated, while Dr. Robert Murphy of Northwestern University called unvaccinated cops "reckless" and warned, "they really are not going to have a choice."
Police unions still have a tough fight ahead.
Copyright 2021, ConservativeStar.com